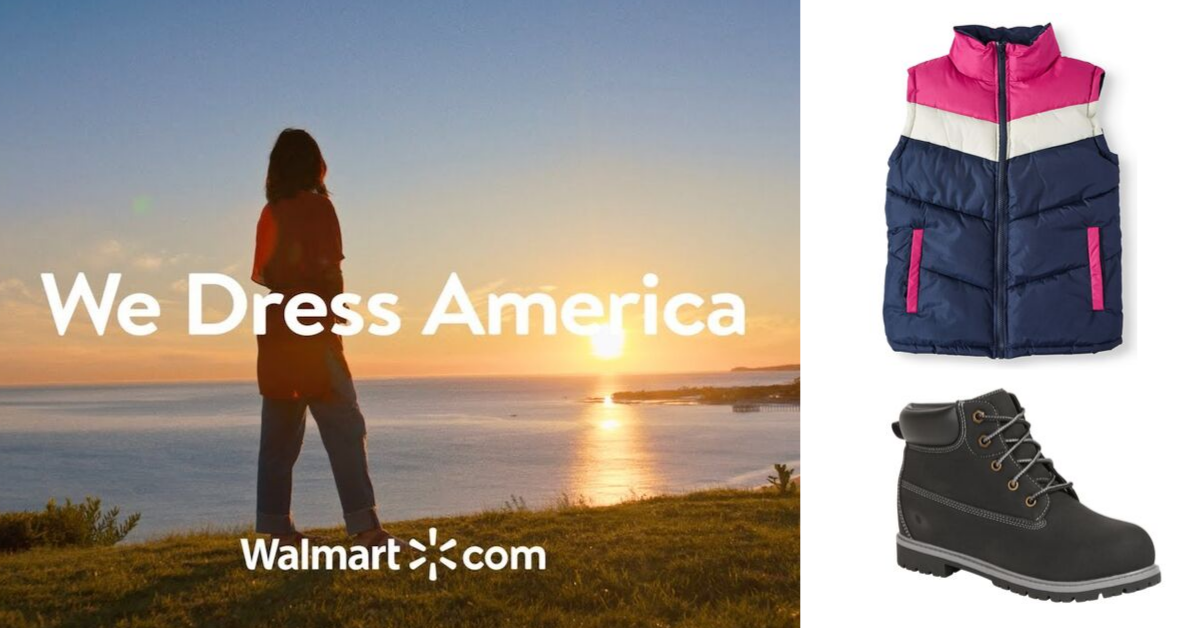 Express yourself with a personal style that represents everything about you. Walmart's We Dress America Fashion supports a diverse range of real people from across the nation, creating passion and style, with Walmart's apparel with everyday low prices. It's time to update your child's wardrobe for the upcoming Autumn weather and travel with statement prints and colors that suit their style.
Here are a few of our favorite Kids Clothing And Shoes that they will love!
Bright smiles and happy thoughts! Your little one will shine while staying comfortable in this 2 piece dress set. The fun plaid print and matching bloomers will keep your little one in style for the upcoming holiday events. The material is a cotton/polyester mix and comes in an easy pullover design. Available in 0-3 months to 24 months. Machine wash for easy care.
 The weather will be turning colder soon. Keep your little one soft and cuddly in this lined sherpa jacket. Features include a high color, half zip-up front, pockets for little hands and long sleeves. The perfect grab and go sweater that is stylish and fun for your child's everyday wear. Sizes are available in 2T to 5T with several color options to choose from. Machine wash on cold for long-lasting care.
Step into style with these casual slip-on shoes for your little one. The touch of color with a dark base brings a simple design to complete your child's outfit. Features include a no-fuss, slip-on style with a durable sole. Available in sizes 2 to 6 and easy to clean.
Nothing says Autumn weather like plaid! These fun "hiking" style boots will pair well with your child's favorite pair of jeans. Thes boots offer comfort along with a high top style for more ankle sport, durable sole and are easy to clean. Choose from red or black plaid and matching laces with available sizes in 7 to 11.
Cold weather season at its best! The forever popular puffer vest will keep your child warm and comfy on those cold days. This puffer vest is perfect for a layering style while your child's arms remain free for outdoor play and easy movement. Features include a stand-up collar, full zipper front and is made of 100% polyester. Available sizes: XS (4-5) to XL  (14-16) and is machine wash cold with like colors for easy care.
Bundle Up! Staying warm on those cold days can sometimes be a challenge. This bubble jacket will get the job done. Features include a soft lined hoodie, full zipper front, pockets, and a dual-color pattern. Your child will enjoy picking out their favorite color with four color options available. Sizes include 4-5 to 18 as well as 10/12 Husky and 14/16 Husky. Follow the easy care instructions for long-lasting care all season long.
Get ready to splash in the rain! These cute floral rain boots will bring a smile to your little one on those cloudy days. Features include a soft polyester/cotton lining and removable insoles. Material is natural rubber and waterproof keeping your child dry and comfortable in unpredictable weather. No zippers or shoelaces here! Easy on and off handles for a no hassle quick change.  Sizes include 5-6 to 13-1. Easy to clean with a damp, warm cloth and mild liquid dish soap.
Colder months require more durability than a pair of sneakers. These Tucker Boots will keep your child's feet comfy, warm and protected from the outdoor elements. Features include a roughed raised heel, sleek design, ankle support, and a 5 eyelet lace-up design. You can choose between black and/or wheat to match your child's style with sizes available in 1 to 13.
You work hard every day and so does your child. Help them express their style with clothing and apparel that they will love without breaking the budget
Your order may qualify for Free Shipping with a $35 purchase or more. No Membership Fee Required. Make sure you check out the details with Walmart Next Day Free Shipping.
You may also enjoy:
Walmart Saving Center Deals: Updated Daily
Walmart Back To School Savings
Walmart Gift Registry: Baby, Wedding and Special Events
Looking for more Online Deals?  
Find them easily by clicking the Online Deals tab at the top of the site!
Want the most of your Shopping this year?