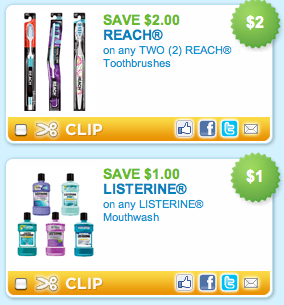 If you did not get the $1 off Reach floss one yesterday it still there along with 2 more HOT coupons. Print them quick.
Tiffany posted about the deals you can get at CVS. Of course you can get the floss free at Walmart every day all day long. Walmart should have the tooth brushes at $1, I will check later today.
Buy 2 Reach Total Care toothbrush – $1.00
Use 1  $2 off ANY two Reach toothbrushes printable
Total: both FREE
Buy Listerine Mouth Wash 250 mL – $2.00 (or trail size possibly)
Use $1 off ANY Listerine mouth wash printable ( not sure if it excludes trial size)
Total: $1
Buy 1 Reach Floss $.88
Use $1 off any Reach Floss printable
Total: Free + $.12 overage!
The Listerine looks like it has a size restriction of 1.0L!