::UPDATE::
I think that Jingit had some technical issues yesterday and things were not reset for some of you. I would try again as they look to have fixed it today.
I created my own account last night instead of using Paul's and since yesterday morning this is how I have done:
As of Wednesday morning I am at:
I have been researching all night, I am not even kidding, I am not having trouble watching videos daily and I know that some of you are. Soooooo, try the following things to do:
#1 Thing if you are having problems viewing videos, is CLEAR your CACHE!
Do you have Adobe installed?
Turn off pop-up blockers
If you can, use Google Chrome as your browser
You have viewed the ads less than 24 hours ago.
You need to clear your cache on your computer.
Jingit Ads for October 24:
Signing up with Jingit is easy, just click on any link on this post and sign Up with your Facebook Account. We got our Jingit cash card in the mail quickly with the cash that we had earned on it and were able to use that $27 to pay part of our grocery bill.
This is our debit card from Jingit that we can reload with the money we made from them. We use it at Kroger or Walmart to pay down our grocery bill!
They are going to ask for your SS#, you can give it or try 000-00-000 and you should be able to get the debit card!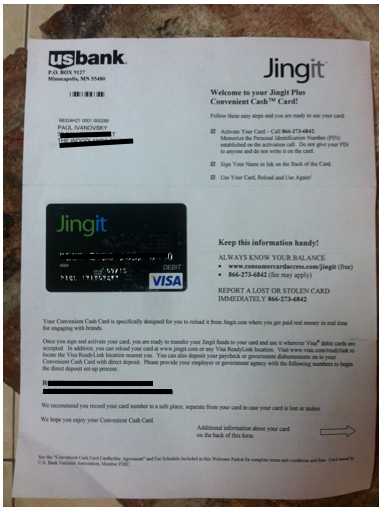 There have been a lot of questions on the debit card…. It will cost you $3. Only use it as a debit card to get your groceries with and you will have NO fees. If you use it as a ATM card there will be fees.
If you don't want the card. The other option you have is to buy music at Jingit.com with the money you earn. I would rather have the card!
You can do this from your desktop computer OR your mobil phone! I used the check in from the Jingit Mobile app (that you will want to download on your smart phone) and found the check in points around my Walmart Store. I did all of this by watching videos and answering a few questions. It was really easy and really rewarding, not just the money, I was absolutely blown away that they donated meals just for me watching the videos. We all know how the schools push the box tops program, this is a simple way to earn some extra ones.