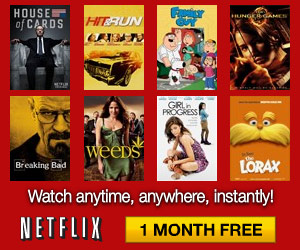 Netflix
is has so many great movies and TV shows that you might not miss the cable selection and definately won't miss the bill.
Earlier this year they announced a partnership with Disney that means you get lots of ABC and Disney series, movies and more!
Find your favorites from ABC Family, ABC series and Disney channel series, movies and Disney features.
Check out Netflix HERE for free for 30 days and if you choose to keep streaming only after your trial it's just $7.99 per month and WAY cheaper than cable.
Plus, you have have your one Netflix account on up to 8 devices. Have it on your home streaming system, smartphone, computer, tablet and more for one monthly charge. Plus, they now have separate user accounts that you can set up for your kids to keep track of what they are watching!