Kohl's Cyber Monday Countdown ~ TODAY ONLY Deals!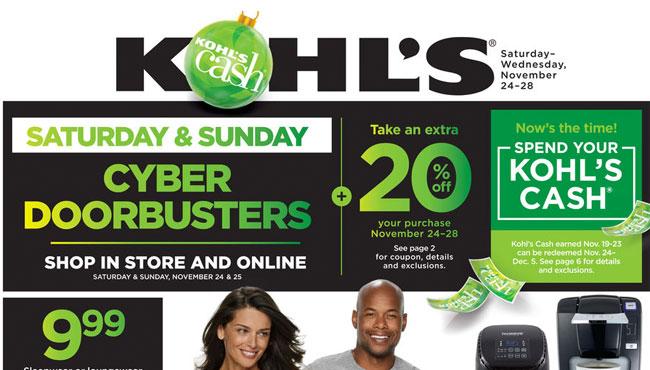 Don't Miss Kohl's Cyber Monday Deals Going On Now!
Black Friday may be over but you can still enjoy those Black Friday price tags as we roll into Cyber Monday with Countdown deals to even hotter deals for this upcoming Monday Cyber Sale At Kohls! Don't forget to grab those Kohl's Cash Deals and your Yes2You Rewards bucks!
Limited Time Offer!
Shop during a Kohl's Cash earn period and get $10 Kohl's Cash for every $50 you spend
You'll receive Kohl's Cash as a coupon when you shop in-store, or in an email, if you shop Kohls.com or at a kiosk
Look for the redemption dates on your Kohl's Cash Coupon, or in the email you receive
Spend it on anything—there are no brand exclusions!
Earn 1 point for every dollar spent. 

Every day.

 Every purchase
On the first of every month, you'll get a 

$5 reward

 for every 100 points earned
You'll have 30 days to redeem your 

rewards on anything

 in-store, online or with the Kohl's App–no brand exclusions
You may also enjoy:
Coupons.com: Free Printable Coupons: Updated Daily

Walmart Savings Center: Rollback And Clearance Deals
Looking for more Online Deals?  
Find them easily by clicking the Online Deals tab at the top of the site!
Want the most of your Shopping this year?
*Remember, prices are subject to change without notice. Please verify the price before ordering.