Guest Post From MyLitter – There is a restaurant close to here that has the best beer bread EVER. Sadly, they wont give their recipe out and so I have for years tried to recreate it. I think I have come close and it is only 3 ingredients!
The 2 things that I love about beer bread are the sweet and tangy taste and the crisp crust and chewy inside.
Beer bread is seriously easy to make with flour, beer, and sugar. Adding self-raising flour tends to give a better result, I have found.
You can change the flavor of beer bread by using different beer. Using a stout or dark beer will make the bread darker and have a different flavor. Use a beer like pumpkin ale flavored and you will add a fun fall taste. Try adding cheddar and parsley or sun-dried tomato.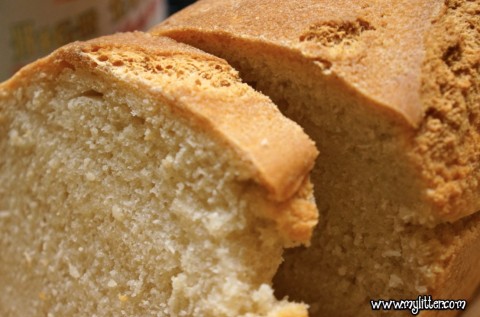 Since we don't drink, I don't have beer on hand. I usually run next door to my neighbor's and offer to buy a can from them. Then I have to promise to make them some as they hand me 2 cans! 🙂
Beer Bread
3 c. Self-Rising Flour
3 T sugar
12 ounces room temperature beer
melted butter *optional*
Preheat oven to 350 degrees.  Grease a regular loaf pan with shortening or butter. Mix together the flour and sugar until well blended. Then, add the beer and stir until combined, batter will be thick.  Pour into prepared loaf pan,  and bake 1 hour.  As soon as you remove from the oven, turn out on a cooling rack with something under it.  Pour melted butter on top of the bread if you wish.