I just saw these on my wife's website and I thought you had to see them! Have you ever seen anything so cute?!?!
From Tiffany- Be still my beating heart! These MIA Pacey Boots are on sale!!! They are so beautiful and are on sale for $29.99 down from $89 + Free Shipping and you will get 10% OFF code 6PMEU117141087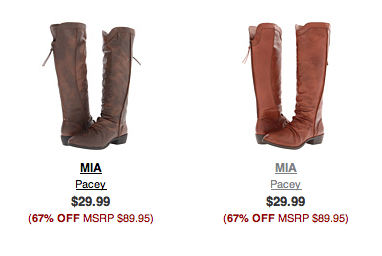 There are a few different colors and even a few more styles, all on sale! Your total on these boots after coupon code will be $26.99 shipped!! Go HERE to get yours!
(Thanks Time2Save)