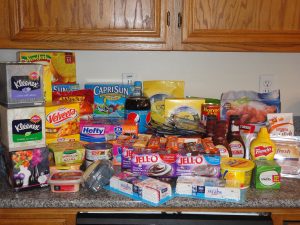 If your Kroger is currently running a mega event right now for a few more days, make sure to shop it and price match at Walmart. I have found that Walmart usually has a better selection than Kroger and you have a lot more options! For example, my Kroger has about 6 kinds of Goldfish crackers, my Walmart has about 12!
You can do these SAME deals and get the SAME price at your Walmart in ONE stop! 
My wife had a reader send in her deals – From April: My total before my Kroger card and coupons was $176.00 after was $73.19  Who know saving money could be so fun!
I purchased a few things that were not on the mega event because I needed them.
4 Capri Suns
8 Starkist tuna
1 2 Liter Pepsi Next
1 Mustard
2 boxes of Wheat Thins
4 Hefty zipper bags
2 Hormel Chili
1 Dove shower tool
1 bag of gold fish
2 cans of chicken breast
6 boxes of Kleenex tissues
4 Jello pudding cups
5 Good n Natural bars
1 Bag of Purina One dog food
1 box of Purina One cat food
1 TGIF Buffalo Chicken dip
1 Kroger brand buffalo chicken
2 Wholly Salsa
2 Oscar Mayer lunch meat
1 Crab dip
1 bag of meatballs
1 New York texas toast
1 ICINB
1 Wanchai Ferry frozen meal
2 boxes of Q-tips (Not on Mega Event,but were 10 for $10)
4 frozen pizzas (Not on Mega Event,but were 10 for $10)
1 Stridex face pads ( Not on Mega Event)
Go
HERE
to the coupon database for any coupons you might be looking for!
More Kroger Deals: