Guest post from Tiffany @ MyLitter.
This is my front yard the morning after Hurricane Ike. In the days before we brought in all the plants and kids toys we could. We nailed down everything possible and taped all the windows.
While many people were panicking and spending all their available cash on supplies, we were comforted knowing that we didn't need to join the rush and that we were well prepared. We ran into Walmart on Thursday evening and were stunned to see the shelves. It was a very errie feeling when your huge supercenter is cleared out COMPLETELY!
Because of couponing and my food storage there was nothing that we needed, save for some fresh fruit and vegetables.
On Friday 2008, everything was closed, the kids were out of school and we just had to sit around and wait. Paul, myself and the DuBois, took the shotgun and hand guns down to the creek to do some shooting and relieve some anxiety! We heard reports on T.V. of all the chaos surrounding the stores closing early and people not having any food or water. I can't understand not being prepared? Why would you live so day to day that you can't take care of your family in an emergency with the basics of food, when you have the ability with coupons to do it almost free?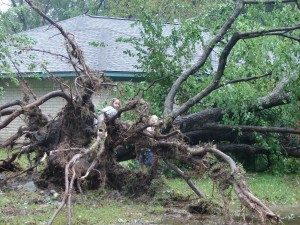 Alright, so are you guys out east ready? What about along the Gulf coast? With hurricane memories still fresh, I have gone through our supplies this past weekend to take a little inventory. If you have a chance you might want to do the same thing.
::Here are a few food and supply items that have coupons to go with them!::
::Bottled Water::
::Candles::
::Food/Snacks::
::Cleaning::
::Batteries::
::Supply Kit Items::
Water – at least 1 gallon daily per person for 3 to 7 days
Food – at least enough for 3 to 7 days
— non-perishable packaged or canned food / juices
— foods for infants or the elderly
— snack foods
— non-electric can opener
— cooking tools / fuel
— paper plates / plastic utensils
Blankets / Pillows, etc.
Clothing – seasonal / rain gear/ sturdy shoes
First Aid Kit / Medicines / Prescription Drugs
Special Items – for babies and the elderly
Toiletries / Hygiene items / 
Moisture wipes
Flashlight / Batteries
Radio – Battery operated and NOAA weather radio
Telephones – Fully charged cell phone with extra battery and a traditional (not cordless) telephone set
Cash (with some small bills) and Credit Cards – Banks and ATMs may not be available for extended periods
Keys
Toys, Books and Games
Important documents – in a waterproof container or watertight resealable plastic bag — insurance, medical records, bank account numbers, Social Security card, etc.
Tools – keep a set with you during the storm
Vehicle fuel tanks filled
Pet care items
— proper identification / immunization records / medications
— ample supply of food and water
— a carrier or cage
— muzzle and leash (shelters require this)
Thanks to NOAA