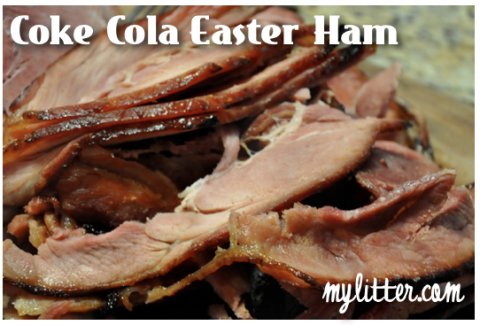 Tiffany posted this Coca Cola Ham recipe yesterday, but I am bring it back again as I round up the best ham prices for this weekend! Make sure to check back tomorrow, Tiffany is posting her menu plan and Easter menu plan along with it!
* Check your ads and make sure to see what deals they have on an Easter ham!
::KROGER::
Boars Head Sweet Slice Dinner Ham $29.99 with card
Boneless Bottom or top Round Roast $3.99/lb.
Cook's Butt Portion Ham $1.69 /lb
Cook's Shank Portion Ham $1.49/lb
Kroger Spiral Sliced Ham $1.99/lb
Private Selection Spiral Sliced Ham $2.69 /lb
::RANDALLS::
Hormel Cure 81 Half Ham $4.99/lb
Paula Deen Spiral Sliced Ham $3.99/lb
Rump Half Ham $1.59 /lb
Safeway Select Boneless Half Ham $3.99/lb
Safeway Select Spiral Sliced Ham $2.79/lb
Safeway Select Whole Boneless Ham $3.49 /lb
Safeway Smoked Rump Half Ham $1.69 /lb
Safeway Smoked Shank Half Ham $1.59/lb
Safeway Spiral Sliced Half Ham $1.79/lb
::HEB::
Smithfield Premium Butt Portion Ham $1.27/lb
Smithfield Premium Shank Portion Ham $1.27/lb
::WALMART::
Farmland Hickory Smoked Ham 40 oz. $5.28
Smithfield Boneless Spiral Sliced Honey Ham $3.98 /lb
Smithfield Sliced Honey Cured Boneless Ham $3.48/lb
Smithfield Boneless Ham Steak with Natural Juices $3.22
Hormel Spiral Sliced Bone In Ham with Natural Juices $1.78/lb
Sam's Choice Smoked Double Glazed Brown Sugar Ham $3.98/lb
Sam's Choice Hickory Smoked Spiral Cut Double Glazed Honey Ham $1.98/lb.