Because it is Friday… I am giving away 90 Inserts and a $10 credit!!!! To enter the giveaway, leave a comment about what you are doing this weekend, Register for Insert Insanity here and Register for Wiz Clipz here.
In order to win, you need to be registered on the sites. It is a quick and easy regsitration. There is no spam or email associated with this process.
Giveaway ends Saturday at 6pm – So you will get your inserts on Wednesday!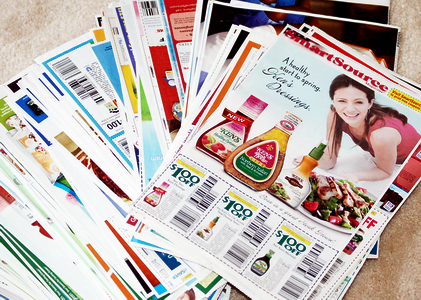 If you are not feeling lucky, or want more inserts… I don't often talk about buying inserts or promote it. But there is a really good special right now, and I know EXACTLY where the inserts came from, and that they are from a legitimate source.
Right now, you can purchase the Big Daddy Stockpile Pack for $49.99 which includes your shipping, 90 inserts and a $10 credit for clipped coupons. This pack will have the RED HOT 4/27 inserts coming out this weekend!
* If you are not sure if you need this many inserts, you can always split the pack with a friend!
Specifically this pack will include:
 3/30:  10 SS
4/6     10 SS and 10 RP
4/13   10 SS 1  10 SS 2 and 10 RP
4/27 10 SS 10 RP 10 PG
That's a total of 90 coupon inserts that are absolutely LOADED with coupons!  I am sure these won't last long.
:: This is what to do ::
Go HERE and register so that your account can be credited the $10 (top right corner in red, you will see "register")
Go HERE and order the Big Daddy Stockpile Pack
Check out and get 90 inserts shipped free. PLUS a $10 credit to order clipped coupons!
This is a great way to get caught up on your coupons if you got behind during Easter.