Have you tried Dollar Shave Club yet?  
For a super limited time, new customers can get a Dollar Shave Club starter kit for only $5 shipped!
This highly-rated starter kit comes with an Executive razor handle and four refills (that's already worth more than $5!), Dr. Carver's Easy Shave Butter, Wanderer Amber Lavender Body Cleanser, One Wipe Charlies, and it's all packaged together in a handy box with witty bathroom reading.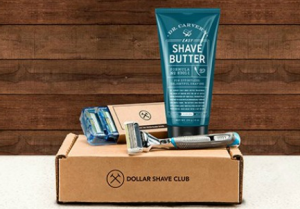 Tiff and I have been using Dollar Shave Club for awhile now, and when our teens started shaving they loved it too. The price is hard to beat and the razors are top notch.   Compared to the crazy high cost of a good razor and refills, Dollar Shave Club is a no-brainer.
I'd love to hear if you have tried Dollar Shave Club and what you think about it! And if you haven't make sure you hurry over here to sign up for this awesome bargain while it lasts 🙂
IMPORTANT: By signing up for Dollar Shave Club you are starting a monthly subscription that you customize to your shaving needs.  However if you'd rather not get monthly subscriptions, you can absolutely cancel after your Starter Kit arrives!