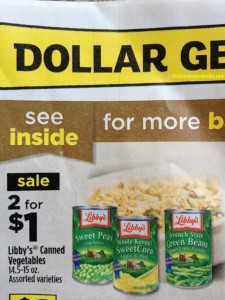 Back on the 11th I gave you the heads up on this deal…. TODAY is the day!
Coming up in the October 28th ad at Dollar General, they are going to have the Libby's Canned Veggies for only $.50 each! This is a killer price at even $.50, but add in the coupons…
Thanks to Dollar Store Deals for this deal!
Because it will be in the ad we can price match this at Walmart!
Libby's Canned Vegetables $.50 (not til the 28th!)
$1/4 Libby's Canned Vegetables, exp. 10/31/12 (RP 08/26/12)
$1/4 Libby's Vegetables printable
Final Price $.25 each WYB 4