I wanted to give you a few coupon macthups for the Coupons.com Savings Club coupons if you have already signed up for their program.
I posted yesterday about how this is the Savings Club birthday month and they are offering 1 year FREE memberships to print coupons. The membership is normally $30 a year and they offer higher value coupons. If it was not free this year I would have not signed up. I don't think otherwise it is worth it. HOWEVER, they are going to ask for your credit card number when you sign up because it is normally a PAID membership. When you use coupon code: BIRTHDAY it will take off the $30.
Yesterday I scheduled a post for NEXT YEAR reminding us to cancel our memberships before we have to pay for them!
Buy 2 Comet Cleaners $1.97
Use $2/2 Savings Club Coupon 
Total: $.97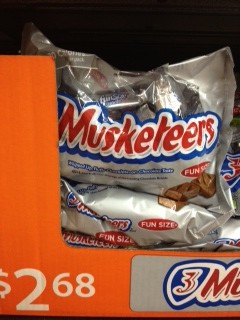 Buy (2) 3 Musketeers Candy Bars $2.68
Use $1.50/2 Savings Club Coupon
Total: $1.93
Buy Kibbles 'n Bits $4.97
Use $2.50/1 Savings Club Coupon 
Total: $2.47